1. To set up SHOUTcast on your Virtual DJ. Please go to record tab and select broadcast and click the configure button.

2. When you are in the broadcast configuration page. Choose master from the record from section. The format will be SHOUTcast (MP3) and select the  bitrate, (Please note do not exceed your bitrates limit from your monthly plan or your stream server might be temporary suspended) Select broadcast to a radio server and enter your server access information in the fields. Click ok to save your setting.
In case you use ICEcast, you will of course select the ICEcast radio button.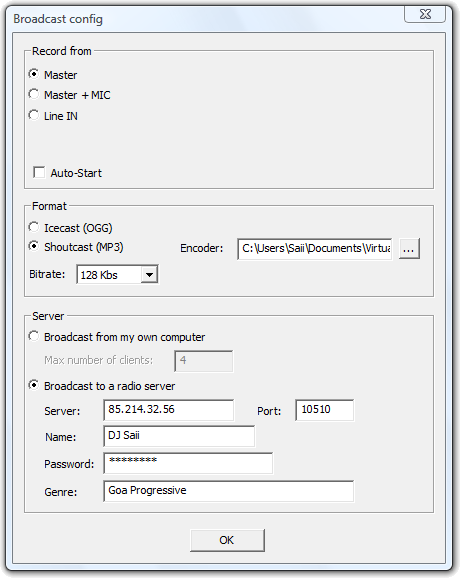 3. Click on Start Recording to connect virtual dj with your stream server. It will show broadcasting on your server ip address and show the total time when it is successfully connected.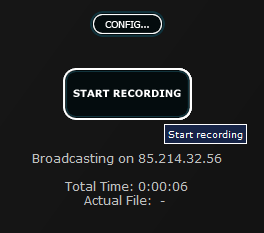 If pressing Start Recording results in an error, double check that the config is filled in correctly. Note that it will also result in an error when someone else is already streaming to the same server. If you are unsure, browse to the server and see if it is in use or not.
Troubleshooting errors:
If you get the following error:
*** Broadcast Error ***
Server answered ''
It can be the following:
The encoder dll is not set (see config image), get the file you need here: LAME_ENC.DLL
Someone else is already streaming on the same URL. Check this by opening the admin page by entering the IP and port in your internet browser, like: http://196.168.0.1:8000/
The port is firewalled, or Virtual DJ is not in the exception list of programs that may send out on your PC. A more comprehensive guide on setting this can be found here: Ultimate Virtual DJ Broadcast Guide