Introduction
The SRC Card-Tray System is part of the SRC Receiver and is a system for making backups, restoring backups and giving Club Managers the means to add/remove DJ and streamcards to the SRC Receiver without the need of an owner to be around.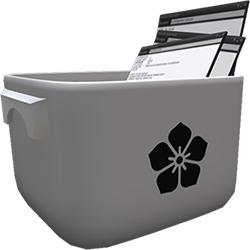 image 1
The Card-Tray - To Rez or not to to rez

You can rez a Card-Tray with the menu of the Receiver ( [Cards] - Rez Tray ). Since rezzing the Card-Tray and taking it into your inventory again might reset the permissions, there is a Card-Tray with full permissions in the box you purchased, and should be in your inventory now since you unpacked the box. Give the Card-Tray from your inventory to a Manager.
The rez function in the menu is meant for the owner as convenience to quickly make a backup of cards.
Card-Tray functions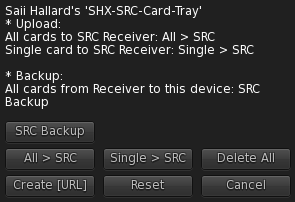 image 2
When you touch the Card-Tray, you will see the menu as displayed above at image 2.
The functions are:
SRC Backup - This will first remove all cards inside the Card-Tray and then retrieve all cards from the SRC Receiver. Depending on your access rights, it will get all cards or only DJ cards.
All > SRC - With this function you can send all cards to the SRC Receiver. It will present a sub-dialog where you can choose if all should be all DJ cards or also including the configuration cards. Here it depends too if you have enough access rights to be able to execute the transfer.
Single > SRC - With this function you can send a single card or a set of cards (if you choose a DJ card).
Delete All - This deletes all cards inside the Card-Tray
Create [URL] - This is a weblink to the DJ card wizard (assistent)
Reset - Reset the scripts in the Card-Tray
Cancel - Cancel operation (close listener)